Welcome!
JOIN US FOR OUR NEXT VIRTUAL FORUM - OCT 14, 2021
Anti-Asian Racism: Historical & Today with Mae Ngai
"Voting is how we participate in a civic society - be it for president, be it for a municipal election. It's the way we teach our children - in school elections - how to be citizens and the importance of their voice." -Loretta Lynch
Let's Talk Democracy is a grassroots, non-partisan organization dedicated to educating people about our government, encouraging dialogue about the basic foundations of our democracy, and empowering citizens of Forest Hills, Queens and beyond to make their voices heard.
FOLLOWING STATE MANDATES DUE TO THE CONVID-19 PANDEMIC OUR LIBRARY EVENTS ARE CANCELLED.
Our March forum has been recorded and is now available on YouTube:
for information on the Coronavirus / Covid-19, VISIT the WEBSITES OF THE CDC AND THE WORLD HEALTH ORGANIZATION
Let's Talk Democracy provides classes, seminars and discussions forums in the belief that
informed, knowledgeable citizens will be better equipped to actively participate in the democratic process.
Fall Civics Series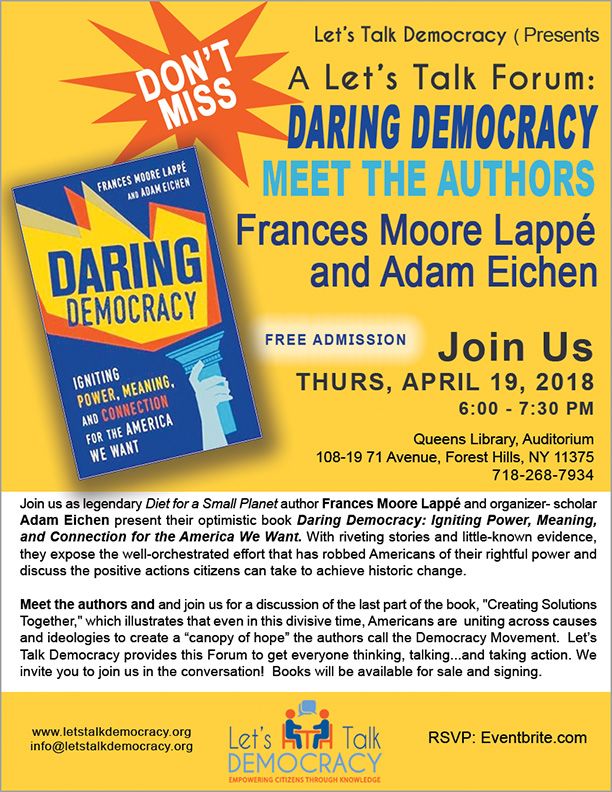 Let's Talk Forums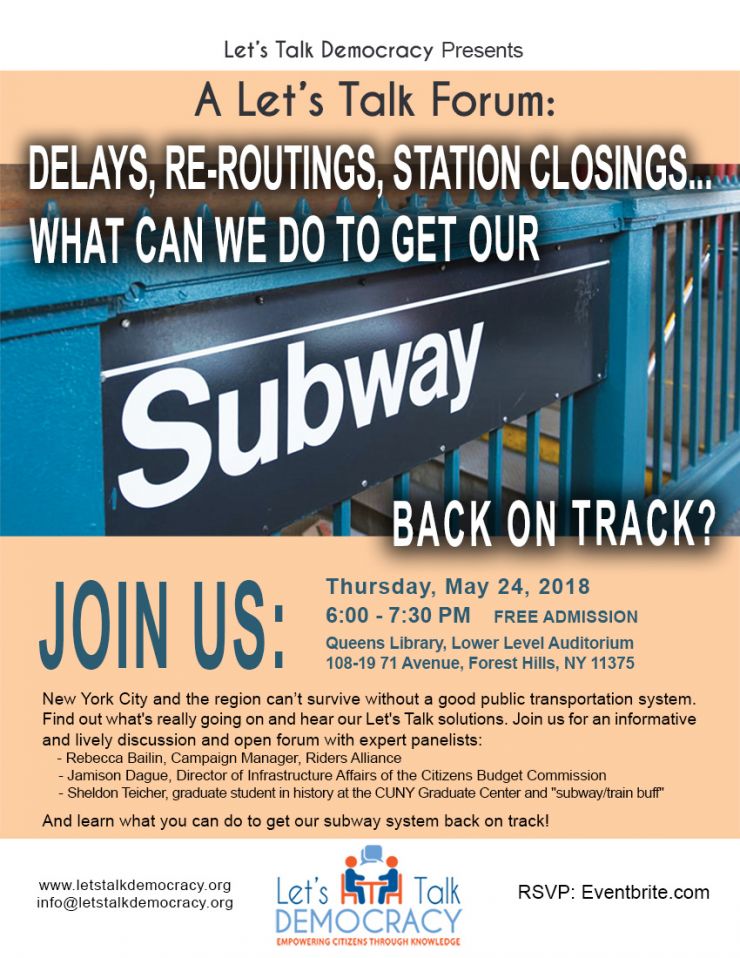 Resources
Check out our Resource Pages for suggested books, articles, videos and websites. Go through our Glossary to understand political terms. Familiarize yourself with the foundation of our democratic system by reading The U.S. Constitution and Bill of Rights.
Come back often as we continue to add information!
Learning and Sharing in Community
Prof. Michael Krasner - Civics Workshop Series

Daring Democracy: Meet the Authors

Daring Democracy: Community Read

DARING DEMOCRACY Co-Authors Frances Moore Lappe and Adam Eichen

Co-Leaders in DARING DEMOCRACY: COMMUNITY BOOK READ
Mailing List
Stay informed about upcoming Let's Talk Democracy events and activities.